GhostCityGirl by Simon Paul Wilson
Entry posted by Steve ·
370 views
GhostCityGirl is part cyberpunk and part horror, mixing them together seamlessly.
In a relatively short book, Simon Paul Wilson manages to do quite a bit of world building.  Now I know what some people think when they hear world building.  Oh no, here come the info dumps!  Not here.  The information we do get is sprinkled throughout the book and in a way that keeps you wondering what the hell is going on but still answering enough questions to keep you hooked.  The bits and pieces we do get are horrifying and unexpected. 
Humor is tough to pull off in text.  I admit I can be hard to please when it comes to humor, not just in books but in general.  I'm more of a fan of the droll and dry humor, and in that GhostCityGirl excels.  There were moments during the story I had to put the book down to let out a laugh. 
During the second half of the book the horror factor gets cranked up pretty high.  There were scenes that had my heart pumping and palms sweating, others that I wanted to turn away and not find out what happens.  I genuinely didn't know what would happen next, and the conclusion caught me by surprise.  It's not easy to write a book that has the reader laughing and being scared out of their wits on the same page. 
GhostCityGirl is horrifying, funny, immersive, touching, thought provoking and wonderful.  Great characters, world building and storytelling.  I have no complaints other than I can't read the second book now.  I read this book faster than I've ever read a book before, it's one of those I can't put this down reads.  Clear out your schedule and enjoy.
Favorite line, no spoilers:
Quote

"Apathy does not just rule here, it is God."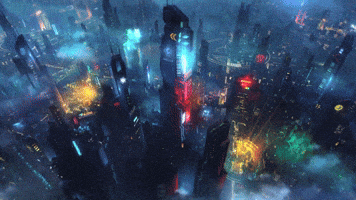 Click here to buy GhostCityGirl on Amazon, also available on Kindle Unlimited
My author conversation with Simon Paul Wilson: